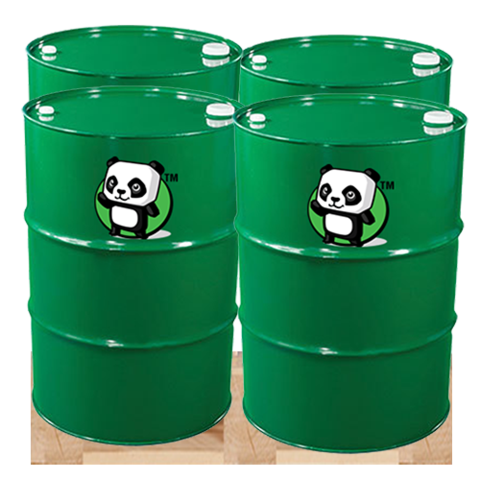 PETRO PANDA EP 150 Gear Oil - (4) 55 Gallon Drums
PETRO PANDA EP GEAR OILS are a series of Heavy Duty lubricants, formulated using high viscosity index base oils to meet the multi-purpose needs of the industrial market. These oils provide protection against rust, corrosion and enhanced oxidation stability, resistant to foaming and contain friction modifiers, help reduce gear tooth and bearing wear on both steel and bronze components.
These oils meet the needs of enclosed gear sets working under heavy loads or shock, plain and anti-friction bearings, slide guides, chain drives, mobile equipment, etc… and incorporate a special sulfur-phosphorus additive to provide extreme pressure performance.
Meet the requirements of EP (Extreme Pressure) lubricants of the American Gear Manufacturers' Association (AGMA) Specification 250.04. They also meet Cincinnati Milacron and US Steel Specification 224 requirements.They are available in several ISO viscosity grades ranging from 68 to 680.
APPLICATIONS: 
Steel gear transmissions including spur, helical and bevel gears, industrial gear drives where full extreme pressure performance due to heavy or shock loading is needed,
plain and roller contact bearings, circulating and splash lubricated systems, mist systems.
Suitable for use in specifications that require:
AGMA 9005 D94EP (150-680 grades),AGMA 9005-02,Bosch Rexroth, Boston Gear,David Brown,Daniell, FAG, Falk, Lenze AG, Minter Machine Company, Morgan Construction,Mueller Weingarten, Rexnord-Stephen, Wartsila, US Steel 224 (150-680 grades),ASTM D-1298, ASTM D-445, ASTM D-92, ASTM D-2783, ISO VG-220, DIN-51517-P.
Chevron Meropa Gear Oil
Mobilgear
Shell Omala HD
---
We Also Recommend
---