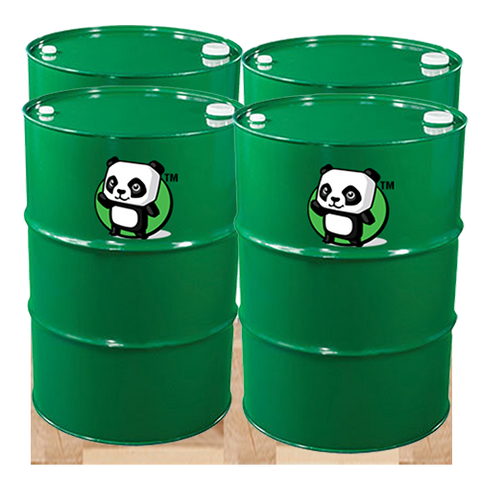 PETRO PANDA AW 68 HYDRAULIC OIL FLUID ISO VG 68 - (4) 55 Gallon Drum
PETRO PANDA AW 68 HYDRAULIC OIL is formulated from selected base oils and compounded with an additive treatment to comply with the normal requirements for a suitable anti-wear hydraulic oil. Provide good fluid stability and hydraulic system protection under normal operating conditions.
PROPERTIES AND BENEFITS:
Viscosity Index: High viscosity temperature stability

Anti-Wear: Protects and prolongs pump life

Oxidation Inhibitor: Keeps hydraulic system clean by preventing deposit formation

Rust Inhibitor: Protects vital parts from rust and corrosion

Anti-Foam: Helps maintain full fluid flow

Demulsifier: Expedites the rapid separation of water from oil

Seal Conditioner: Helps to keep seals pliable

Film Strength Improver: Resists shock load wear
APPLICATIONS:
Plastic molding machinery

Metal working machine tools

Construction equipment

Compacting and bailing machines

Material handling equipment

Sanitation vehicles

Hydraulic elevators

And numerous other types of hydraulically powered devices and machines.
Mobil DTE 26
Shell Tellus S2 MX
Exxon Humble Hydraulic H 68
Texaco Rando HD 68
Chevron Rykon Oil 68
Conoco Super Hydraulic 68
Clarity Hyrdaulic Oil
Nuto H
---
We Also Recommend
---